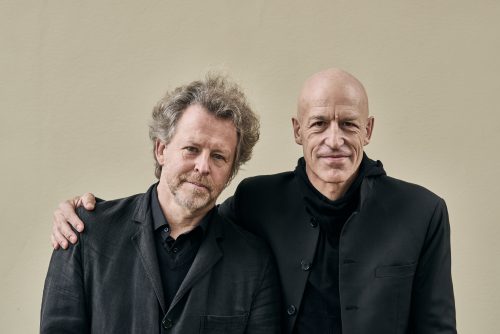 It is not easy to maintain dignity and spiritual peace in these difficult times of universal uncertainty. Well-educated and sensitive artist Mikalojus Konstantinas Čiurlionis found comfort and support in Lithuanian folk music during difficult moments in his life.
In the melodies and consonances polished over the centuries, the classic felt a versatility that is perfect for people of modern times as well. Not only did he enthusiastically create new, very modern music based on folk music at the time, but he also commissioned future artists to continue this work:
This assignment is consistently carried out by one of the world's most famous music experts and performers of M.K. Čiurlionis, his great-grandson, pianist Rokas Zubovas. He has recorded and released numerous albums with music by M.K. Čiurlionis, including a monumental anthology of six CDs with the book "M.K. Čiurlionis. Pieces for piano". As a soloist, a member of various chamber ensembles and the piano duo "Duo Zubovas", the pianist has successfully performed in many countries in Europe, North and South America.
In 2018, Rokas Zubovas got acquainted with the French electronic and theater music creator and actor Phil Von, who has been living in Vilnius for several years.
Phil Von's previous music, especially that of his band Von Magnet, has a strong influence on flamenco and other styles of folk music, which is why critics have called it electro-flamenco. While living in Vilnius, Phil Von created and often performs live a program of electronic interpretations of Lithuanian folk music and recordings of Lithuanian neo-folk performers. In 2019, he produced the solo album of the composer Algirdas Klova "The Flow of Versmė".
The duo soon introduced a program in which M.K. Pieces for piano based on Čiurlionis' Lithuanian folk songs sound in a freer, modern interpretation by Rokas Zubovas. During the concert, Phil Von transforms the sound of the piano with various electronic devices and complements it with the natural sounds of nature and electronic instruments.
Placed in a digital futuristic medium, the electronically transmuted piano chords saturated with folk music sound like a space orchestra. They seem to be looking for ways to find a way to spiritual balance in an extremely intense, aggressive everyday life, which is why the authors of the project called it "Go to Peace".
Rokas Zubovas & Phil Von will be performing at the Church of St. Catherine, Vilnius on November 8th at 7 P.M. Ticket seller Paysera Tickets
PRE-ORDER Limited Edition 12″ Vinyl + Digital Album "Eiti ramyben" ("Go to Peace") by Rokas Zubovas & Phil Von HERE