Claude Debussy (1862-1918) Three Sketches for Symphony Orchestra "The Sea"
Mikalojus Konstantinas Čiurlionis (1875 – 1911) Symphonic poem "The Sea"
Transcriptions for piano four hands
Duo Zubovas: Sonata Zubovienė and Rokas Zubovas, piano
The program "Resounding Sea of Colours. Debussy and Čiurlionis" unites two symphonic masterpieces from the early twentieth century adapted for one piano four hands.
Debussy and Čiurlionis started composing their majestic marinist opuses in the same year, 1903. Debussy completed The Three Sketches for Symphony Orchestra "La Mer" in 1905. In the same year, the work was performed in Paris, but without much success – the language of the work was too modern for the listenner. In order to make the work accessible to wider audience, the composer also prepared and published an adaptation of the work for one piano four hands in 1905.
Čiurlionis completed his monumental symphonic poem "The Sea" in 1907, but the work was performed only in 1936, twenty-five years after composer's death. The adaptation of Čiurlionis' "The Sea" for piano four hands was prepared by the composer's youngest sister Jadvyga Čiurlionytė around 1925. The adaptation, which until now remained only in manuscript format, is currently being restored and edited for the first public performance.
In 2022, these two monumental seminal early twentieth-century works will be performed for the first time in one program, revealing the kinship between the creative aspirations and ideas of two early twentieth- century geniuses, as well as highlighting the surrounding cultural context.. The program will also present for the first time a version of Čiurlionis' symphonic poem "The Sea" for piano four hands.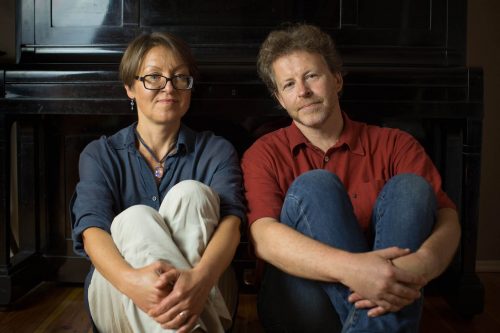 In 2022, Duo Zubovas celebrates the 25th anniversary of their creative career. The Duo's debut concert took place in Chicago in 1997. The Duo has performed in major American and Canadian cities, Argentina and Uruguay, many European countries (Great Britain, Ireland, Norway, Finland, the Netherlands, France, Italy, Switzerland, Germany, Poland, Latvia, Slovenia, Hungary, Serbia, Ukraine), as well as Russia, Belarus, and Iran.
Duo Zubovas is regularly invited to participate in international festivals: France (Berlioz, 2003), Italy (Cita di Castello, 2004), Norway (Norskmusikfestucke, 2001), Slovenia (Ljubljana, 2010), Russia (Bachosluzheniye, 2009), Germany (Usedom, 2011 ), Finland (Rauma, 2013), Belarus (Piano Duo Festival, 2017), Ukraine (Kiev Easter Music Festival, 2018), the Netherlands (Festival Vocallis, 2021), and Lithuania ("Pažaislis", "Marių klavyrai"," Klaipėdos pavasaris", "Jauna muzika","Permainų muzika"," Gaida ", Šiauliai Piano Duo Festival", etc.). Pianists carry out educational programs in Lithuanian cities, in 2005-2019 they organized the annual international music and ecology festival "Land of the Disobedient" in Neringa.
Zubovas Duo has performed with the Lithuanian National Symphony Orchestra, the Belarusian State Symphony Orchestra, the Kherson Symphony Orchestra, the Kaunas Symphony Orchestra, Šiauliai, Klaipėda, St. Christopher and Kaliningrad Philharmonic chamber orchestras, Vilnius String Quartet, Čiurlionis Quartet, as well as "Aukuras", "Aidija", Vilnius University, "Jauna muzika", and "Dainava" (Chicago) choirs. The Duo performed world premieres of works written for it by more than 10 different composers.
Organiser:
Impetus musicus ("Nepaklusnieji")
Partners:
M. K. Čiurlionis House in Vilnius
Ambassade de France en Lituanie
Sponsors:
Lithuanian Council for Culture
Embassy of the Republic of Lithuania to the Kingdom of Belgium
Lithuanian Culture Institute
Concert calendar:
04.05 17:30 Varėnos Jadvygos Čiurlionytės menų mokykla (Vytauto g. 29, Varėna)
04.06 17:00 Druskininkų M. K. Čiurlionio meno mokykla(Vytauto g. 23, Druskininkai)
04.07 17:00 Alytaus muzikos mokykla (Sporto g. 12, Alytus)
04.13 17:00 Rietavo savivaldybės kultūros centras (Parko g. 5, Rietavas)
04.24 15:00 Lūznavas muiža (Pils iela 8, Lūznava, Latvija)
04.25 17:00 Zarasų meno mokykla (Dariaus ir Girėno g. 11, Zarasai)
05.01 15:00 Kasteel Sorghvliedt (Marneflaan 3, BE – 2660 Hoboken, Antverpenas, Belgija)