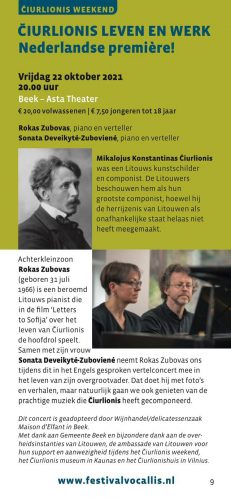 Ciurlionis, you say? For the uninitiated in Lithuanian culture: Mikalojus Konstantinas Ciurlionis was the greatest composer the country produced, he was also one of the most important visual artists and a more than creditable writer. When Ciurlionis died in 1911, he left behind some 400 pieces of music and 300 paintings – and he was only thirty-five. The Limburg festival Vocallis, which took place on Friday, putted a spotlight on multi-talented Ciurlionis in its opening weekend.
Pianist Rokas Zubovas (1966) knows a handy formula for the specific gravity of Ciurlionis: "Compare it with Norway: suppose you put painter Edvard Munch and composer Edvard Grieg together in one person, then you have a nice idea." On Friday, Zubovas and his wife, pianist Sonata Deveikyté-Zuboviené, played a 'narrative concert' in which Ciurlionis' music, art and literature came together.
Pianist becomes actor
The life of Zubovas is quite intertwined with that of Ciurlionis. To begin with, he is a great-grandson of the composer-artist. In 1986 he won joint first prize in the Ciurlionis Piano Competition, which he retrospectively calls "the most important event in my life." As a pianist, Zubovas is one of the foremost performers and advocates of his ancestor, and when he was involved as a musical advisor in the biographical film Letters to Sofija (2013) to his own surprise, he was asked to play the lead role. "I'm not an actor, but I can do things that actors can't," says Zubovas. The film was screened in Maastricht on Saturday afternoon.
In retrospect it is easy to say that Zubovas was born to serve as an apostle of Ciurlionis. But it wasn't like that, he says: "Ciurlionis was not in my family big deal. I am very grateful to them for that. I wasn't involved with him until I had to play his music at the conservatory – I met him first as a colleague, later as a family. And only during the filming did I delve into his personality. But it is strange if you have been so intensively involved with someone for over thirty years. I feel like I've become more and more like him."
Synesthetic method
On Friday evening, Zubovas and his wife played a quatre-mains version of Ciurlionis' most famous work, the symphonic poem Mice ('In the forest'): "That is the symphonic representation of Lithuania, the absolute number 1 in the canon. We know from his letters that Ciurlionis himself played it on the piano for his friends," explains Zubovas. After that there is "a dialogue between music and literature", in which paintings are also shown. Zubovas plays piano solo pieces and Sonata reads. In this way visitors can form an image of Ciurlionis' synaesthetic working method: he saw colors with sounds and vice versa. "He had an antenna for all that was new, and at the same time he was a romantic at heart."
In the concert they follow Ciurlionis' style development chronologically. In the beginning, around 1900, he focused on the scenic beauty of Lithuania. His interest then shifted to what Zubovas calls "the fairy tale." "We end with the piano variations The sea from 1908, which are already very abstract. We show the painting cycle Sonata of the Zee from the same time and there is a literary fragment about the sea."
The man who would become a national hero did not live to see Lithuania's independence in 1918. Zubovas: "Ciurlionis led an intense life, smoked a lot, hardly ate and only drank very sweet tea. That lifestyle wrecked his body and in 1910 he collapsed. He spent the last year and a half of his life in a sanatorium, where he died of pneumonia."
Festival Vocallis, 22/10 to 7/11, at various locations in South Limburg. Inl: festivalvocallis.nl
Newsletter
NRC Culture Guide